Nick Veasy - Jenna's Picks - Floral X-Ray
1/4/2021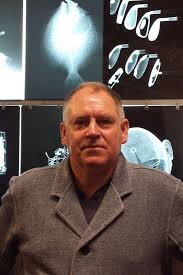 NICK VEASEY - FLORAL X-RAY SERIES - JENNAS PICKS
"Artists are always finding ways to take what's familiar and present it us to ways that we never expected. This is exactly what I found in the work of Nick Veasey. Nick uses X-ray technology in his work in an attempt to reveal the inner beauty of different forms. X-Ray technology is so present in our lives, but to use it in the creation of art is rare.
The stark contrast between the floral forms and the black backdrop is striking. It forces me to look at each part of the flower, realizing just how intricate and surprisingly orderly the forms are. The images have an intensity to them that's only enhanced by their underlying meaning: That "beauty is more than skin deep". Nick's work gets to the core of this by having us focus so deeply on the beauty of the forms in front of us."
Jenna Shamoon, Art Consultant

I love the fact that very often the most everyday objects take on another level of importance.
by Nick Veasey
We live in a world obsessed with image. What we look like, what our clothes look like, houses, cars… I like to counter this obsession with superficial appearance by using X rays to strip back the layers and show what it is like under the surface. We all make assumptions based on the external visual aspects of what surrounds us, and we are attracted to people and forms that are aesthetically pleasing. I like to challenge this automatic way that we react to just physical appearance by highlighting the, often surprising, inner beauty.
This society of ours, consumed as it is by image, is also becoming increasingly controlled by security and surveillance. Take a flight or go into a high-profile courtroom and your belongings will be X-rayed. The post arriving in corporations and government departments has often been X-rayed. To create art with equipment and technology designed to help big brother delve deeper, to use some of that fancy complicated gadgetry that helps remove the freedom and individuality in our lives, to use that apparatus to create beauty brings a smile to my face.
To mix my metaphors, we all know we shouldn't judge a book by its cover, that beauty is more than skin deep. By revealing the inside, the quintessential element of my art speculates upon what the manufactured and natural world really consists of.